In 1677, Sir Thomas Lynch returned to England having served in Jamaica since 1670, the year when he was also knighted at Whitehall and married Vere, daughter of Sir Edward Herbert of Weybridge and sister of the Earl of Torrington. He purchased the Esher estate and either during his ownership or that of his daughter, Philidelphia and son-in-law, Sir Thomas Cotton, the late medieval buildings were pulled down and the palace was destroyed. Only the gatehouse survived, to become the core of a Jacobean residence, flanked by three-storey wings.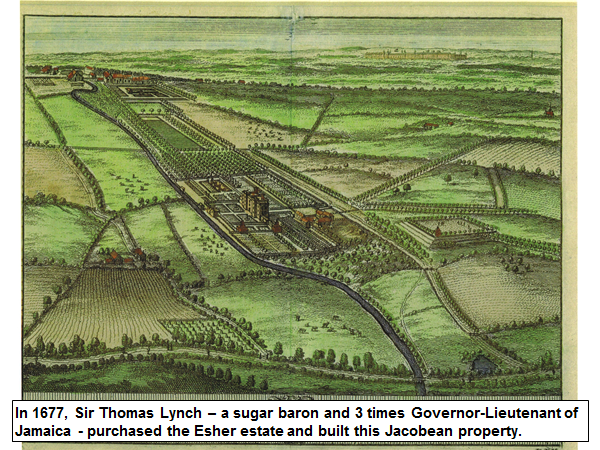 The Kip-Knyff engraving illustrated here, dramatically illustrates this almost unrecognisable transformation. It clearly shows a strict geometric garden design, with flower gardens arranged in rectangles and squares, divided by pathways. The rear garden is divided on two levels, with steps linking the terraces.  The grand design could be fully appreciated from the house as it was clearly on view. It was fashionable to use box and lavender, which were trimmed into framing hedges, and ornamental shapes. Formal planning and topiary had enjoyed popularity since Tudor times, although the formality of the Italian Renaissance style gardens in England were tempered by French and Dutch influences. Many trees, plants and flowers were introduced into England at this time and it is most likely that they featured prominently in the gardens at Esher.
Sir Thomas is reputed to have sent home the first consignment of sugar from Jamaica. During Lynch's years in Jamaica, it was colonised by a growing number of English emigrants attracted by the sugar and cocoa plantations and the agricultural opportunities. He presided over an era of buccaneers and pirates waging war on the ships and trade of other nations, particularly those of Spain. Undoubtedly, the costly Esher venture was financed by the vast profits Sir Thomas and his heirs achieved from his Jamaican sugar plantations and the hard labour of the African slaves who worked them.
In 1700, England consumed only 10,000 tons of sugar each year, although she owned sugar colonies of her own at that time. The Liverpool slave traders carried cargoes of finished cotton goods to Africa, exchanged them for Africans, took the slaves across the Atlantic and returned with cargoes of raw cotton, tobacco and sugar. The islands of the West Indies were regarded as the richest jewels of the English Crown and vast sums of English capital were invested in West Indian slave plantations. By 1800, England consumed 150,000 tons of sugar, reflecting the expansion of this lucrative market.
In 1681, Sir Thomas was re-appointed Governor and sent out to Jamaica for a third term and would appear not to have had the opportunity to enjoy his Esher residence. His wife and son, Charles, became ill on the ship, the Sweepstakes, and were landed at Madeira, where they both died. Their bodies were sent home to be buried at Esher, but unfortunately Sir Thomas failed to arrange woollen shrouds that, according to English law had to be provided for all corpses in an expedient attempt to assist the declining wool trade. Someone informed the authorities of Sir Thomas' failure to comply and he was not only fined £50, but also had to give another £50 to the informant. The parish of Vere, in Jamaica, was named after Lady Lynch.
Sir Thomas Lynch died in Jamaica in 1684, just five years after purchasing the Manor of Esher and was buried there. In commemoration of his wife, Sir Thomas left in his will "the third part of the interest of £100" to the rector of Esher to pay for a sermon to be preached on the virtues of his wife on 30 September each year; of the remainder, 5 shillings was to go to the clerk, and the rest to the poor of the parish. Sir Thomas' second wife and widow, Mary, showed an interest in Esher and left £100 to the parish in her will, together with three and a half acres of land. Philadelphia became the new owner, together with her husband, Sir Thomas Cotton of Combermere, who later became Sheriff of Cheshire. Thomas and Philadelphia had an astonishing nine sons and six daughters.
There stands today, in the grounds of Esher Place, a tulip tree, (Liriodendron Tulipifera) imported from Virginia in 1685 and reputed to have been planted by Philadelphia in commemoration of her father and to be the oldest specimen in England. Also in the garden of the Tower stands a majestic tulip tree. Photographic evidence suggests it was planted between the two wars and presumably originated from the same tree. More than one hundred years later during the Spicer family's tenure "one of its noblest branches was riven from the stem by a violent storm, but the wood being found in good condition in spite of its extreme age caused Mr Spicer to have several finely wrought writing boxes to be made from it". Jane Porter's sister had written a poem "The Old Tulip Tree at Esher Place" while sitting under its shade and in recognition of her work Mr Spicer presented one of the writing boxes to the "poetess of his tree".